Location of the Conference
Augmented Human 2013 took place in Stuttgart, Germany, on March 7 and 8, 2013.
SimTech Building at the University of Stuttgart, Pfaffenwaldring 5a, Stuttgart.
University of Stuttgart:
SimTech Building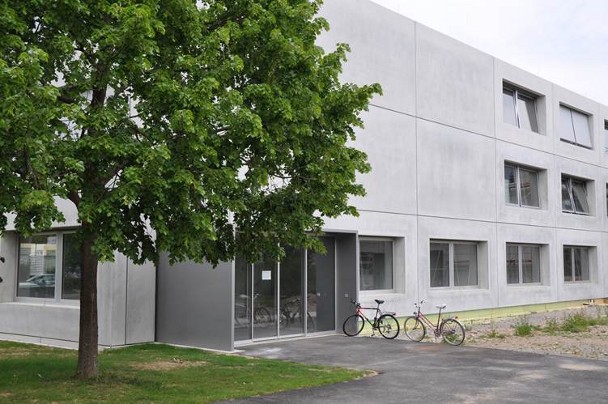 Map
Travelling to Stuttgart
Stuttgart is well connected via plane and high-speed trains (ICE) to cities in Germany, Europe, and worldwide.
By Plane
Stuttgart Airport (STR): From Stuttgart Airport (STR) it is only a 16 minutes train ride to the conference venue. »Details
Frankfurt Airport (FRA): By train, Frankfurt Airport (FRA) is about 90 minutes away from Stuttgart. »Details
Stuttgart Main Station (ZWS)—Code-sharing on Trains between Frankfurt Airport and Stuttgart Main Station: If you are flying via Frankfurt, some of the Lufthansa flights to Stuttgart are actually trains that are operated by Deutsche Bahn in co-operation with Lufthansa. To find out if you are booked on of these trains, check the code of your destination airport. »Details
By Train
If you come from Germany or Europe, using the train may be an option. There are (direct) high-speed train links to Stuttgart from many German cities and from several European destination, including Paris and Vienna. »Details
By Car
If you arrive by car, please use the following destination to get to the conference venue:
Address

Universität Stuttgart
Stuttgart Research Center for Simulation Technology (SRC SimTech)
Pfaffenwaldring 5a
70569 Stuttgart

Phone

+49-711-685-60048

Fax

+49-711-685-50049
Hotels
Conference Hotel
The Commundo Tagungshotel Stuttgart is in walking distance from the conference location (about 5 minutes). A number of rooms has been blocked for participants of AH2013 at a special rate of € 75.00 per night. In order to book one of these rooms, please note that you should provide a special booking reference during the booking process (either by phone, e-mail, or enter it as »additional requirement« if you book via the hotel website). The booking reference is 150085860.
Please not that the number of rooms blocked for AH2013 at the conference hotel is limited and the special rate may only be booked on and before February 13, 2013 (extended deadline). The conference does not accept responsibility for the availability of these rooms and rates.
More Hotels
You can find more hotels in Stuttgart using booking engines like HRS.com or Booking.com. If you are looking for accommodations close to the conference venue, the address above (By Car) should help to find a place.